Wedding dress designer. Cloak. Bustier.  Stage costumes and gala balls
For the past 30 years, Zélia has imagined and created dreamy dresses
and fairy outfits in her workshop boutique at the bottom of the Montmartre hill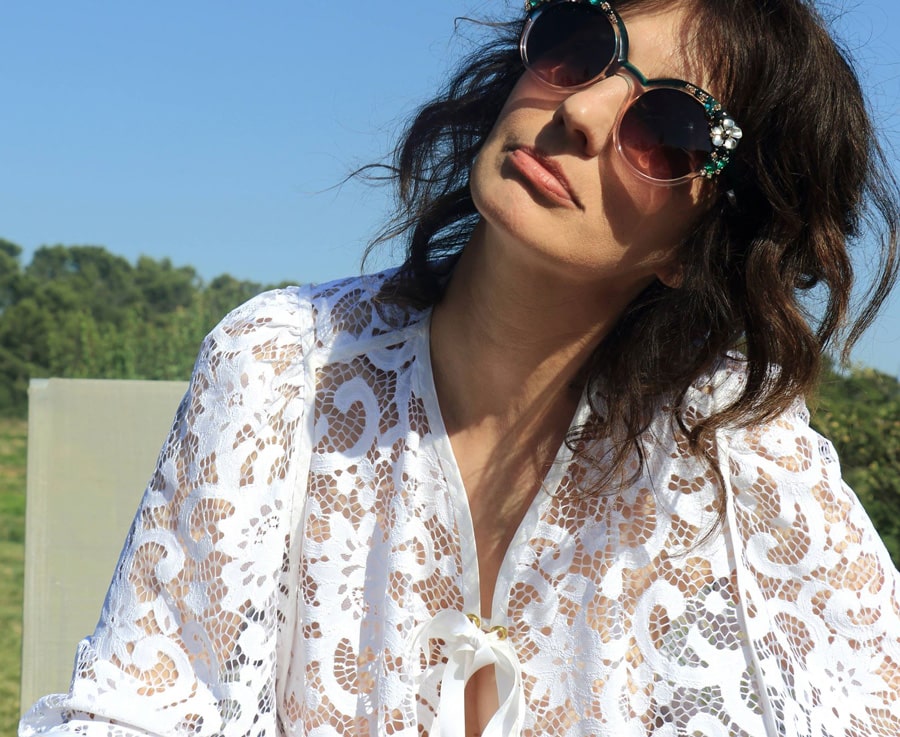 A few steps away from Abesses and the fashionistas boutiques, and next to the Sacré Coeur's emblematic steps, you'll find "Zelia Sur La Terre Comme Au Ciel". A name that occurred to her on a dreary night in her home town of Picardie when she was just a teenager. First of all, Zélia has an insight/a fresh perspective, an analytical mind, new collections to try on, dresses to discover and most of all: an apriori to kick out (you shall not come to show her other couturiers work).
In her workshop, you'll find tissues to feel, touch, caress, there will be measures to take, the search for a certain kind of perfection. Zélia is also a service, a welcome, an atmosphere. A shop with a neat and singular decoration and a Zélia who dances while sewing. Zélia sews her robes as others have tea.
You can watch her working at the back of her shop between the garden and many petticoats, hats, bustiers, and dresses that make up her marvelous collection of unique and original pieces that you will only find in her boutique. These rare pieces made in the most delicate fabrics await the princess who will wear them or will at least give to those girls the desire to create their own dress.
In this "lair of wonders," they are above all laughs, solutions, and a "way of life ".
Zélia is an energy, a sparkle, constant good humor and smiles, those are the rare and precious things that she loves to share with others.
Here's what you can order from her…
* Bridal dresses for women dreaming of an original piece that matches them, far from uniforms and conventional diktats or trends.
* Unique dresses and outfits, rock, glamor, romantic, 20 or more contemporary for women in search of THE look for an evening or important event.
* Must Have Zélia, like her whale-free bustiers, short capes, long woolen, transparent silk or Caudry lace.
* Always inspired and tailor-made stage outfits, designed especially for artists, singers, dancers or for theatrical costumes, on which her look always brings a singularity.
* There is no princess without an apron, a no good marriage without good food. Zélia, offers a collections of pretty bibs and indoor outfits to die for.
Make an appointment and come to the door of her studio at 47 ter, rue d'Orsel Paris 18th, in the heart of Montmartre, metro stop : Abbesses.